ENGL 101.009/011 Assignments
10/25 - 11/5/04 (Weeks 9-10)
Assignments can be updated at needs/speed of the class; you will be notified of updates by e-mail, and are responsible for checking the page after notification.
---
»»WEEK 9 (10/25 - 10/29/04)
for MONDAY October 25
-- for everyone's sake, we'll review our skills for teh mid-term on Wednesday. Read ahead on assignments for this Friday and next week.
for WEDNESDAY October 27 -- MID-TERM EXAM
-- an in-class essay similar to the diagnostic essay you performed on the first day of class; gives yo uthe opportunity to show how well you've abosrbed the writing skills we've covered thus far in the semester: thesis statement, topic sentences, support/illustrations/examples, transitions, ¶ focus, active verbs, sophisticated language.
for FRIDAY October 29
-- Have read in SoL Jenny Lyn Bader, "Larger Than Life," pp.720-731; take good notes for us to discuss in class.
---
»»WEEK 10 (11/1 - 11/5/04)
for MONDAY November 1
-- last week you performed your trick (the mid-term), so here's your treat: class does not meet today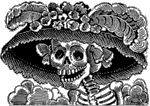 ¡Para ustedes quien celebraránlos, Feliz Dias de los Muertos!
for WEDNESDAY November 3
-- ATTENTION: CHANGE OF ASSIGNMENT: Blackwell Library has selected today as our Library Research Orientation Day. Meet in the downstairs of Blackwell Library; from there, Kathryn Kalmanson, Head of Reference, will walk us through researching materials in the library and via online databases available through the library (makes Google look insufficient). You'll need to know all this for Paper #4, so now's the time.
for FRIDAY November 5
-- Have read in SoL Gary Engel, "What Makes Superman So Darned American?" pp. 677-685; take good notes for us to discuss in class.
---
»» Links:
Schedule for Weeks 11-13
Back to ENGL 101.009/.011 Mainpage