ENGL 386.001/002 Assignments
10/25 - 11/5/04 (Weeks 9-10)
Assignments can be updated at needs/speed of the class; you will be notified of updates by e-mail, and are responsible for checking the page after notification.
---
»»WEEK 9 (10/25 - 10/29/04)
for MONDAY October 25
-- Have read in WA "Native Americans" pp.3-6
-- Have photocopied & read from course reserve "Collection 4" in the library:
U.S. Commission on Human Rights (report) "Indian Tribes"
Paula Gunn Allen (essays) "Where I Come from Is Like This," and "Angry Women Are Building" (both from The Sacred Hoop).
for WEDNESDAY October 27
-- Have read in WA Erdrich's poem "Dear John Wayne" pp. 68-69, Tahnahga poem "Suburban Indian Pride" pp.141-42, Chrystos poems "I Make the Fire" and "Those Tears" pp.55-56.
for FRIDAY October 29-- MID-TERM EXAM
In-class, term definitions/examples, and perhaps a brief essay. Show up on time.
---
»»WEEK 10 (11/1 - 11/5/04)
for MONDAY November 1
-- last week you performed your trick (the mid-term), so here's your treat: even though we don't get to Latina/Chicana writers until next week, go celebrate los Dias de los Muertos, the Méxican Days of the Dead, November 1 & 2, with some good Méxican food, and some dancing, and remember those important women in your life who have passed away (class does not meet)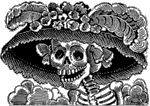 (Here,
la Catrina
, the symbolic female figure of
los Dias de los Muertos
as popularized by Méxican folk artist Posada. She exists partway between Aztec birth/death goddesses like Coatlicue, the Catholic Virgen, and everyday women. Méxicana artist Frida Kahlo was inspired by such figures, and included a good deal of
Dias de los Muertos
imagery in her paintings.)
for WEDNESDAY November 3
-- Leslie Marmon Silko, Ceremony
for FRIDAY November 5
-- Leslie Marmon Silko, Ceremony
---
»» Links:
Schedule for Weeks 11-12
Back to ENGL 386.001/.002 Mainpage